Get ready for deliciousness: 9 quick and easy dinner ideas!
Hey there, foodies! Are you tired of the same old boring meals every day? Want to spice things up but don't have much time? Well, you're in luck! I've got 9 delicious dishes that are sure to satisfy your cravings for a tasty meal.
Whether you're a beginner in the kitchen or a seasoned cook, these recipes are simple to follow and require minimal prep time. And the best part? You only need a few basic ingredients for each dish, so you won't have to break the bank to create a delicious meal.
So, get ready to impress your taste buds with these quick and easy dinner ideas. Trust me, your stomach will thank you!
Get Ready to Indulge in One-Pan Orzo with Artichokes
This dish is a personal favorite of mine when I'm in the mood for a quick, hearty meal after a long day. What's great about One-Pan Orzo with Artichokes is that it's not only simple to make but also filled with a myriad of flavors that are sure to leave you feeling satisfied.
To whip up this dish, you'll need a handful of ingredients including orzo pasta, artichoke hearts, cherry tomatoes, and spinach. The beauty of this recipe is in the one-pan method which means less cleanup.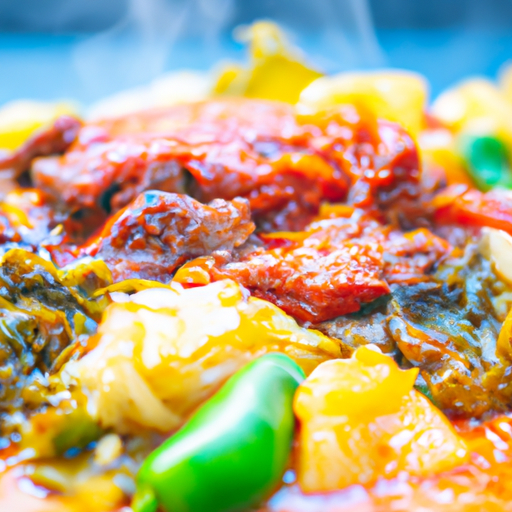 First, start with sautéing some garlic in your pan before adding the orzo and artichoke hearts. Once those are nicely toasted, add in your spinach and cherry tomatoes, followed by enough water or vegetable broth to cook the orzo until it's al dente.
Don't forget to season the dish with salt, pepper, and red pepper flakes for a little heat. Once everything is cooked, finish off with a squeeze of lemon juice to brighten up the dish.
Trust me when I say that this One-Pan Orzo with Artichokes is a crowd-pleaser, whether you're cooking for yourself or for a group of friends. You can switch up the vegetables if you'd like and add some protein with sliced chicken or chickpeas for a more filling meal.
I found this recipe on Bowlsunset.com, where you can find plenty of other great recipe ideas that are easy to make and delicious to eat. Bon appétit!
Get ready for a delicious dinner with Sheet Pan Sausage and Veggies
Hey guys, I'm excited to share one of my go-to dinner recipes with you – Sheet Pan Sausage and Veggies! This dish is incredibly easy to make and always tastes amazing, making it a real crowd-pleaser.
Ingredients you'll need:
– 1 pound of your favorite sausage
– 1 zucchini
– 1 red bell pepper
– 1 yellow bell pepper
– 1 red onion
– 3 tablespoons of olive oil
– 1 tablespoon of Italian seasoning
– Salt and pepper to taste
Here's how to make it:
First, preheat your oven to 400 degrees F. While it's heating up, chop up your veggies into bite-sized pieces. I like to use zucchini, bell peppers, and red onions, but feel free to mix it up and use your favorite veggies.
Next, add your chopped veggies, sausage, olive oil, and seasonings to a large bowl. Mix everything together until the veggies and sausage are coated in the seasoning and olive oil.
Spread the mixture out onto a large baking sheet and bake for 25-30 minutes, or until the sausage is cooked through and the veggies are tender.
That's it – your Sheet Pan Sausage and Veggies is ready to serve! I love to serve it with a side of rice or quinoa for a complete meal.
Expert tip:
To make this dish even more flavorful, try using a spicy sausage or adding some crushed red pepper flakes to the seasoning mix. Yum!
Give Sheet Pan Sausage and Veggies a try – it's an easy, delicious, and healthy dinner option that everyone is sure to love!
Baked Ziti: My Go-To Comfort Food
When I need a comforting and delicious meal that's easy to make, my go-to dish is baked ziti. This classic Italian-American dish is always a hit with my family and friends. Here's my take on how to make it:
Ingredients:
– 1 pound ziti pasta
– 1 jar (24 ounces) of marinara sauce
– 1 pound ground beef
– 1 cup ricotta cheese
– 1 egg
– 1 tablespoon olive oil
– 2 cups shredded mozzarella cheese
– Salt and pepper to taste
Instructions:
1. Preheat your oven to 375°F.
2. Cook the ziti pasta according to the package instructions. Drain and set aside.
3. Heat the olive oil in a large pan over medium heat. Add the ground beef and cook until browned. Drain any excess fat.
4. Add the marinara sauce to the pan with the ground beef and stir until well combined.
5. In a bowl, combine the ricotta cheese and egg.
6. In a 9×13 inch baking dish, spread a layer of the meat sauce on the bottom.
7. Add a layer of the cooked ziti on top of the meat sauce.
8. Spread the ricotta cheese mixture on top of the ziti.
9. Add another layer of the meat sauce on top of the ricotta cheese.
10. Finally, sprinkle the shredded mozzarella cheese on top of the meat sauce.
11. Cover the baking dish with foil and bake for 25 minutes.
12. Remove the foil and bake for an additional 25 minutes, or until the cheese is melted and bubbly.
13. Let the baked ziti cool for a few minutes before serving. Enjoy!
Overall, this dish is easy to customize to your taste preferences. Feel free to add some Italian seasoning, chopped vegetables, or switch up the type of meat. Baked ziti is the ultimate comfort food that's perfect for any occasion!
My Go-To 30-Minute Teriyaki Salmon Recipe
Guys, do I have the perfect dinner solution for you – my 30-Minute Teriyaki Salmon recipe! This dish is my go-to when I want something quick, easy, and seriously delicious. Plus, with only a handful of ingredients and a few simple steps, you can have this mouthwatering salmon on your table in no time!
To start, preheat your oven to 375°F and line a baking sheet with foil. Then, whisk together the teriyaki sauce ingredients – soy sauce, brown sugar, garlic, ginger, and honey – in a small bowl. Next, place your salmon filets on the foil-lined baking sheet and brush with the teriyaki sauce. Bake the salmon for about 12-15 minutes, or until cooked through.
While the salmon is cooking, you can prepare a side of vegetables or rice to serve alongside it. Personally, I like to make some steamed broccoli or snap peas, and serve it all over a bed of fluffy white rice. Trust me, it's the perfect combination!
Not only is this recipe quick and easy, but it's also incredibly flavorful thanks to the sweet and savory teriyaki sauce. Trust me, you won't be disappointed with this one!
Impress Your Family with This Mouth-Watering One-Pot Chicken Alfredo Recipe
Hey, guys! Today, I'm going to share with you my go-to recipe for a hassle-free and delicious dinner option, and that's none other than the one-pot chicken alfredo. If you're a fan of creamy and savory pasta dishes, this one will definitely win your heart, and the best part is that it requires minimal effort and only one pot to clean up!
First things first, let's talk about the ingredients you'll need:
1 pound chicken breast, sliced into strips
8 oz. fettuccine pasta
4 cups of chicken broth
1 cup of heavy cream
1/2 cup of grated parmesan cheese
4 garlic cloves, minced
1 teaspoon of dried basil
Salt and black pepper to taste
2 tablespoons of olive oil
Fresh parsley for garnish
Now that you've got all the ingredients ready, it's time to get cooking. Here's how to do it:
Season the chicken strips with salt and black pepper.
Heat up the olive oil in a large pot over medium-high heat, and add the chicken to it. Cook for around 5-6 minutes until it's no longer pink.
Add the garlic and basil, and cook for another minute, stirring constantly.
Pour in the chicken broth, heavy cream, and fettuccine pasta. Give it all a good stir.
Simmer the mixture for around 15-18 minutes, until the pasta is al dente.
Take the pot off the heat, add the grated parmesan cheese, and stir it all together until the cheese is melted and the sauce is creamy.
Divide the one-pot chicken alfredo into bowls and garnish with fresh parsley. Enjoy your delicious meal!
See, I told you it was easy! Plus, the result is absolutely mouth-watering. You can add in some veggies like mushrooms, broccoli, or bell peppers if you want to make it even more nutritious and colorful. You can also substitute the fettuccine pasta with your favorite kind.
This recipe is perfect for those busy weeknights when you don't want to spend too much time in the kitchen but still want to impress your family with a yummy and satisfying meal. Give it a try and let me know what you think!
This Garlic Parmesan Shrimp Recipe is Simply Amazing!
Oh man, let me tell you about this Garlic Parmesan Shrimp recipe that I recently tried out. It was out of this world, I kid you not! The flavors were so robust and intense, and the texture of the shrimp was just perfect.To make this recipe, you'll need some jumbo shrimp, garlic, butter, breadcrumbs, grated Parmesan cheese, lemon juice, and some parsley. I was surprised at how simple it was to whip up this dish, and it took me less than 30 minutes to get everything ready.First, you'll want to clean and de-vein the shrimp. Then, heat up your skillet and add the butter and garlic. Once the garlic is fragrant, you'll toss in the shrimp and cook it until it's pink and cooked through. Don't overcook it, though!Next, you'll stir in the breadcrumbs, Parmesan cheese, and lemon juice. Oh man, the smell of those ingredients sizzling together was heavenly! You'll cook it for a few more minutes until the breadcrumbs and cheese have browned and gotten crispy.Lastly, you'll sprinkle some chopped parsley over the top and serve it up hot. Voila! Dinner is served. This recipe is great on its own as a main dish, or you could serve it over some pasta or rice as a side. Trust me, you won't be disappointed with the flavors in this dish.So next time you're in the mood for some seafood, give this Garlic Parmesan Shrimp recipe a try. It's a winner!
Delicious Mediterranean Orzo Salad
Hey there, foodies! Are you looking for a quick and easy salad that will fill you up and satisfy your cravings for something fresh and flavorful? Then you have to try my Mediterranean Orzo Salad!
This dish is perfect for lunch or dinner, and it works great as a side dish or main course. Orzo, which is a small pasta that looks like rice, is the star of the show, but don't worry, this salad is packed with veggies and protein as well.
Simplicity is key when it comes to this salad, and that means that you won't need a ton of ingredients. You'll only need a few vegetables like juicy tomatoes, olives, and crunchy cucumbers. Then you'll mix everything together with cooked orzo, parsley, and feta cheese.
One of my favorite things about this salad is its versatility. You can add any veggies or herbs that you love, like red onion, bell pepper, or even avocado. It's also a great salad to meal prep for the week, as it holds up well in the fridge and tastes just as delicious as leftovers.
When it comes to serving this salad, I love to pair it with some grilled chicken or fish for extra protein. It's also fantastic on its own, with a slice of crusty bread on the side.
So, what are you waiting for? Let's make this salad and enjoy a taste of the Mediterranean at home!
Sloppy Joes: Messy but Delicious!
Hello, foodies! Today, I want to share with you my all-time favorite comfort food: Sloppy Joes. These sandwiches may be messy, but trust me, they're oh-so-delicious! You're going to want to roll up your sleeves and dive right in.
To make Sloppy Joes, you'll need ground beef, tomato sauce, ketchup, Worcestershire sauce, brown sugar, and a few spices. First, brown your beef in a pan and drain any excess fat. Then, add in the tomato sauce, ketchup, Worcestershire sauce, brown sugar, and spices. Let everything simmer for a bit until the flavors meld together. Finally, load up some buns with the beef mixture and enjoy!
One of the best things about Sloppy Joes is how versatile they are. You can add in different vegetables or spices to make them your own. Personally, I like to add diced onions and green peppers to give my sandwiches some extra crunch. Some people even like to top them with cheese or coleslaw for added flavor.
So, there you have it, folks. If you're ever in need of a quick and easy dinner idea, give Sloppy Joes a try. They may be messy, but they're sure to be a crowd-pleaser!
Conclusion: In a Nutshell!
So, there you have it folks, these are 9 super tasty and quick dishes that you can whip up in no time. Honestly, I can't get enough of these dishes – they are so easy and simple to make, and yet they taste absolutely amazing.Now I know that sometimes we all get caught up in our busy lives, and cooking a meal from scratch can seem like the last thing on our minds. But trust me, these recipes are all so quick and easy to make, you will wonder why you didn't try them sooner.Whether you're looking for a protein-packed salmon dish, a creamy Alfredo recipe, or a fresh and healthy Mediterranean pasta salad, this list has got you covered.So why not try these recipes out today and make a delicious meal that won't take hours to prepare and cook? Your taste buds will thank you for it!