Introduction to Canapes
What's the best way to get the party started? Canapes! These delicious, bite-sized treats are the perfect way to get any outdoor gathering off on the right foot. But what exactly are canapes?
In a nutshell, canapes are small appetizers or snacks served at social gatherings. They're popular because they're easy to eat—no utensils needed—and you can enjoy a variety of flavors in just one bite. Plus, they're super simple to prepare. As an added bonus, they look great too.
But there's more than meets the eye when it comes to canapes! For a detailed explanation, check out this article from Bowl Sunset. It breaks down the components and different types of canapes so you can whip up something special that'll wow your guests.
And let's not forget the convenience factor. Eating outdoors is always great fun, and canapes are ideal for picnics, barbecues and other al fresco events. No need to fuss and bother over main courses; simply have a selection of tasty canapes to hand and you've got yourself a party!
Outdoor Canape Ideas to Whet Your Appetite
If you're planning an outdoor event, canapes are a must-have for your taste buds. There's nothing quite like enjoying a few of these snacks in the sunshine with friends and family! Here's a list of some of my favorite outdoor canape ideas that are guaranteed to make your next gathering one to remember:
Crostini – Classic and easy to assemble, crostini is always a hit. To make it extra special, add a topping like pesto, tapenade, or fresh tomato salsa – bring on the flavor!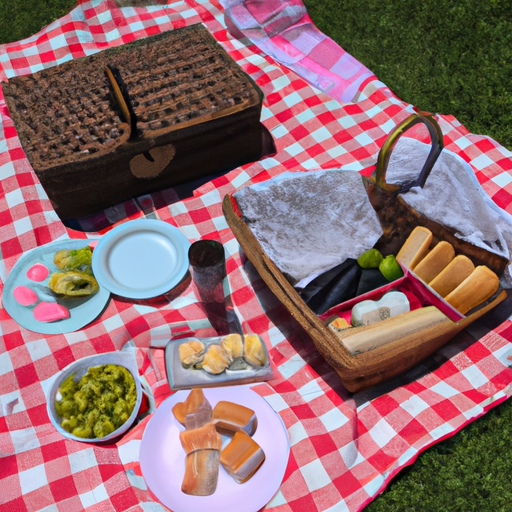 Deviled Egg Bites – Who's ever met someone who doesn't love deviled eggs? Most of the work can be done ahead of time, then just pop them out of the fridge when you're ready to serve.
Mini Caprese Skewers – These bite-sized morsels will have you drooling! Just cube up fresh mozzarella, cherry tomatoes and basil, thread them onto a skewer and drizzle with balsamic vinegar. Yum!
Roasted Vegetable and Hummus Pinwheels – A tasty and healthy addition to any meal. Roast your favorite vegetables and combine them with hummus and spinach in a tortilla wrap – yep, these pinwheels are a keeper!
Smoked Salmon Toasties – There's nothing better than smoked salmon – unless it's combined with cream cheese and cucumber on a slice of toast. This canape has all the makings of an outdoor feast fit for royalty.
Tips for Preparing and Serving Outdoors
There are a few things to be sure of when it comes to preparing and serving canapes outdoors. You don't want to scrimp on the ingredients, but you also need to make sure your food stays safe — temperature-wise — in any outdoor conditions. And let's not forget presentation.
Start by picking quality ingredients: seasonal, fresh veggies and herbs, premium cold cuts, cheeses that won't melt away under the heat of the sun. Then consider how best to keep food safe while out and about. If you're heading somewhere hot, opt for cold canapes where possible – mini quiches, caprese skewers and smoked salmon toasties all carry well with no temperature requirements. And if you have any trouble keeping food cool, ice packs will do the trick.
Presentation's key too – whether you're hosting an al-fresco brunch or just catching up with friends in the park. A carefully chosen platter makes the difference between an afternoon nibble and an Instagram-worthy spread. Get creative with the little details – maybe wrap some rosemary around a skewer of halloumi, roll up parcels of parma ham and melon or use a mini grater to add a sprinkle of zest over devilled eggs.
Trust us — show off your DIY culinary skills and you'll be scrumptious success!
Wrapping it Up: The Final Word on Outdoor Canapés
When the sun's out and the grills are fired up, canapés are a great way to feed your guests and get everyone in a festive mood. As I've hopefully shown, with a bit of guidance and a pinch of creativity you can whip up some fantastic finger-food for your outdoor event.
From choosing the right ingredients to keeping food safe in the heat, there's plenty you can do to make sure the party goes off without a hitch! Whatever you choose to serve, just be sure to keep presentation in mind and have fun experimenting with different flavors and textures.
At the end of the day, getting creative with canapés gives you the chance to breathe new life into your summer events; as they say, variety is the spice of life! So get 'chopping, spreading, and seasoning' and you'll be ready to go in no time.
FAQs About Outdoor Canopies
What can you say about canapé?
Canapés are a great way to entertain outdoors. They are easy to prepare, can be served cold or warm, and are a delicious and elegant way to tantalize your guests with a variety of tastes. Plus, they're the perfect accompaniment to any outdoor event, whether it's an outdoor wedding, a backyard barbecue, or a picnic in the park.
When planning an outdoor canapé party, there are several things to consider. First off, if you're serving a large crowd, it's important to choose recipes that can be made in advance and kept in the refrigerator or freezer until they're needed. Secondly, it's important to pick recipes that will travel well, so that they don't spoil in the heat. Finally, you want to make sure that you choose recipes that your guests will enjoy.
When selecting canapé recipes, there are a few options. For starters, if you're looking for something savory, you can create mini sandwiches or cheese and cracker trays. If you're looking for something sweet, consider making bite-sized desserts, like miniature cupcakes, tarts, or cheesecakes. For a more classic approach, finger-foods such as deviled eggs, olives, and cucumber slices are always popular. Alternatively, you can mix and match a variety of recipes to create a unique, eclectic mix.
When preparing your canapés, remember that presentation is key. Arrange your canapés on trays, or place them on a table cloth draped over a picnic table. Use decorative paper napkins, colorful toothpicks, or garnishes like parsley and lemon slices to add a special touch. With a few simple touches, you can turn an ordinary outdoor event into a truly memorable affair!
What food is good for an outdoor party?
If you're planning an outdoor party, there's nothing like delicious canapes to make it a hit! The great thing about canapes is that they come in all shapes and sizes, so you can really be creative and make something that everyone will love. Here are some great ideas for canapes that you can serve up outdoors:
Finger Foods – Finger foods are always a great option for outdoor parties. Think mini-sandwiches, quiche, tartlets, mini pizzas, crostini, and even sushi. These can all be prepared ahead of time and served cold, so they're perfect for a summer party. Plus, they'll give your guests something to nibble on while they mingle.
Gluten-Free Alternatives – If you have guests who have dietary restrictions, it's always a good idea to have some gluten-free options. Think deviled eggs, fruit skewers, vegetable wraps, and quinoa salad bites. All of these are delicious, easy to make, and appropriate for outdoor dining.
Sweet Treats – No outdoor party is complete without some sweet treats! Mini desserts like cupcakes, tartlets, and mini pies are all great options. Or, you can go for something a bit different and make your own donut wall! This is a great way to let your guests customize their own dessert.
These are just a few ideas for serving up delicious canapes outdoors. With some creative thinking and a bit of effort, you can easily whip up a spread of delicious canapes that everyone will love!
What is the description of canapé?
A canapé is a small bite-sized appetizer typically served on a piece of bread or cracker. It usually consists of a savory base with a topping of cheese, meat, fish, or vegetables. Canapés are often served at cocktail parties or other gatherings and can be as simple or as extravagant as desired.
If you're looking to enjoy delicious canapé outdoors, the key is to keep your ingredients simple and easy to manage. Start by preparing a selection of savoury bases like mini toasties, crackers, slices of smoked salmon and creamed cheese. Once you've selected your base, choose some toppings like a selection of thinly sliced vegetables, rocket, bresaola or tuna and capers. For a unique twist, why not try adding a dollop of pesto or some garlicky butter.
When serving canapés, be sure to keep them small so that your guests can easily enjoy them. Place them on small plates and top with decorative garnishes like lemon slices, herbs or edible flowers for a gorgeous and memorable presentation. And for a real treat, why not finish off with a sprinkle of caviar or a drizzle of truffle oil!
By keeping it simple, you can enjoy delicious canapés outdoors without the fuss of preparing an entire dinner. Remember to use fresh, seasonal ingredients and don't be afraid to get creative with your toppings. With a little imagination, your canapés will be sure to impress!