Introduction
Canapés are those delicious, bite-sized morsels that send your tastebuds into overload. Not only are canapés a great way to tantalize your guests and inject some gourmet-level flair into your next dinner party, but they're also super simple to make – you don't need professional chef-level skills to whip up a showstopping spread.
When it comes to canapés, the options are virtually endless, giving you plenty of room to get creative. Plus, when served alongside drinks, canapés create that perfect atmosphere for an evening of fun, laughter and good conversation.
Considerations when Creating a Gourmet Canape Spread
Making a great canape spread is no joke. It takes careful consideration and planning to craft a delicious, unique spread that will impress your guests. There's more to it than just throwing together a few random snacky things and calling it a day.
First off, you wanna have variety and balance in your flavors. You'd be surprised how much of an impact something like adding a hint of zing or sweetness can have on a bite-sized masterpiece. Plus, your spread should have a good mix of textures. Just think about the contrast between the fluffy, light nibbles and something crunchier and denser.
Then there's presentation. You want to make sure each individual canape looks nice, so you might wanna get creative with the plating. I mean, who wouldn't love a pretty little flower-shaped design made out of some colorful veggie slices?
Recipes for an Impressive Canape Spread
When it comes to preparing canapes, we've got you covered! I'm here to give you the scoop on some delicious recipes that will make your party unforgettable. From smoked salmon to shrimp and mango salsa, these recipes are guaranteed to impress. Each one is easy to whip up with minimal ingredients, so you'll be able to enjoy more time with your guests.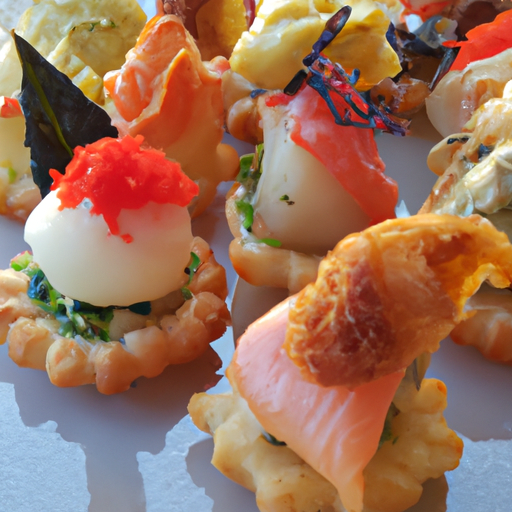 To start, let's talk about the classic smoked salmon and dill on rye. Not only does this combination provide a flavourful balance of saltiness and sweetness, but the rye provides a great crunch. All you need to do is spread a layer of cream cheese on the rye bread, top it with smoked salmon and dill, and voila! You have yourself a fancy appetiser.
Next, you can't go wrong with prosciutto drizzled with balsamic. This dish is simple yet elegant; all you have to do is wrap prosciutto around asparagus and place it on a platter. Then, lightly sprinkle with salt and pepper before drizzling with a balsamic glaze. This will add a tangy finish to each bite and make your guests feel like they're in an Italian restaurant.
If you're looking for something colorful, try making mini-Caprese Skewers. Simply stack a cherry tomato, basil leaf, and mozzarella ball onto a skewer and drizzle it with olive oil. You can serve them as is, or even heat them up for a warm, gooey take on this Italian classic.
Finally, if you really want to wow your guests, try grilling some shrimp and topping it with mango salsa. The sweetness of the mango will pair perfectly with the smokiness of the grilled shrimp for a flavor combination that can't be beat. Simply prepare your mango salsa ahead of time and toss it with some freshly grilled shrimp to serve.
Tips for Preparing Canapes
Creating a gourmet canape spread doesn't have to be intimidating! With the right preparation, you'll be able to craft an impressive presentation and wow your guests. Here are a few insider tips for successful canape preparation:
If you want to make sure everything is perfectly on point when it's time to serve, do as much of the prep ahead of time as possible. Make marinades, dressings, and all the components for the canapes and assemble them in the morning or the day before. That way, all you'll need to do at serving time is plate the finished products in an attractive fashion.
Whenever possible, use the freshest ingredients. It makes all the difference in taste and texture. Try to buy locally-sourced, seasonal produce and get wild seafood from trusted sources. Freshness makes all the difference!
Keep in mind that many of your guests will have tried all sorts of sweet snacks and dishes during the meal. To avoid putting their palates into sugar shock, try to balance out the menu with savory canapes. Prosciutto, smoked salmon, and plenty of fresh veggies are great options for adding contrast.
Overall, creating a memorable canape experience takes some thought and effort, but if you use these tips, you'll be well on your way to a spread that will be remembered long after the party is over. Good luck!
Conclusion
There you have it – an impressive canapé spread for your next event in no time. With a little prep ahead of time, the right balance of sweet and savory flavors, and a variety of textures, you can wow your guests with these gourmet canapes. A great way to wrap up the night and keep everyone talking!
So pull out that cutting board and fire up the grill – you've got some delicious canapes to make. Bon appetit!
FAQ about Gourmet Canapes
What are the types of canapé spread?
When it comes to creating an impressive gourmet canapé spread, there are many options to choose from. From savory bites to sweet indulgences, it's all about finding the perfect balance of flavors. For starters, one could go with some classic choices like mini quiches, deviled eggs, or crostini with a variety of toppings. For a healthier option, some items might include roasted vegetable skewers, hummus, and avocado toast. And for something sweet, there are plenty of delightful choices like mini fruit tarts, cheesecake bites, or even miniature pastries. To really make it a success, don't forget to include some delicious gourmet cheeses and tasty cured meats, along with a selection of artisanal breads and superb olives to bring it all together.
Once you have your menu planned out, it's time to get creative with presentation. A charcuterie board looks stunning, with a selection of meats and cheeses arranged artfully on a platter. Or try a cheese wheel, with an array of gourmet cheeses served in a wheel shape on a flat platter. Then there's the antipasto platter, featuring an array of cured meats, olives, artichokes, roasted peppers, and capers. For a sweet touch, an edible arrangement of fruits and nuts is always welcome. Finally, remember to offer guests a variety of accompaniments such as mustards, jams, vinaigrettes, and chutneys.
It's also important to think about the atmosphere for your party. If a more formal affair, consider displaying the canapés on trays or traditional tiered stands. For a more relaxed setting, arrange the canapés on platters or create a buffet. Finally, don't forget the garnishes to really make the canapés shine. Fresh herbs, edible flowers, and small flower petals are all simple yet beautiful touches that can take your canapé spread to the next level.
What is the best base ingredient of canapé?
In my opinion, the best base ingredient for a gourmet canapé spread is a combination of puff pastry and crisp, juicy vegetables. You can use puff pastry as a base for many different canapé recipes – it's easy to work with, cooks quickly and can be topped with almost anything. Vegetables, on the other hand, add crunch and flavor to a canapé. They can also provide a great contrast to richer and heavier toppings. Whether you're making a sweet, savory, or spicy canapé, using puff pastry and veggies as your base will ensure a beautiful and delicious presentation!
Why is spread very important in preparing the canapés?
A spread is vital when it comes to prepping an impressive canapé selection. It's the foundation for all of the other elements of your event's cuisine. Whether you're hosting an intimate gathering of close friends or a large corporate party, the spread provides the backdrop for the presentation and ensures that your canapés don't just look great, but also taste terrific.It's worth taking extra time and effort to curate a delicious and diverse array of canapés that complement each other flavor-wise and give your guests a memorable dining experience. Begin your spread by selecting a variety of fresh, seasonal ingredients that provide the visual appeal. Think vibrant, eye-catching items like colorful bell peppers and artichoke hearts.Next, aim to create a variety of textures in your spread. Incorporate crunchy items such as nuts, croutons, and crackers. To add richness, include creamy cheeses, hummus, and pâtés. Then, to bring in some sweetness, consider adding jams, honey, and even chocolate.Adding a variety of in-season herbs and spices to your canapés is another great way to enhance flavor. Sprinkle basil, mint, garlic, and other herbs for an added bit of zest.Finally, be sure to select a range of canapé shapes and sizes. Tiny round tarts, crescent shaped sandwiches, and oblong stuffed peppers all make for a spectacular presentation.At the end of the day, the spread you curate for your canapés should reflect your personal style and tastes, as well as the preferences of your guests. Put together an array of fresh, flavorful ingredients, pay attention to texture and shape, and be sure to season items to perfection. The result will be an impressive and memorable canapé spread.