Introduction
Canapes are the perfect party food. They take only minutes to prepare and they look great, too! These bite-sized morsels can tempt anyone's taste buds and make a party memorable. Plus, you can get creative with your recipes – from traditional favorites like smoked salmon and cheese to new and exciting options like bacon and cream cheese toast. And don't worry, there are plenty of easy canape recipes for those of us who don't have time to shop for fancy ingredients or slave away in the kitchen. Whatever type of canapes you choose to serve, your guests will be impressed.
So let's get started by taking a look at some traditional canape recipes, then we'll show you how easy it is to whip up something delicious without spending hours prepping. You're going to love it!
As an expert in canapes, I've seen them make their way from party platters to the hottest restaurant apps. And there's a good reason for that – canapes are delicious! Plus, they're easy and quick to put together – no matter what level of experience you have in the kitchen.
Traditional Canape Recipes
If you're looking to add a special touch to your appetizer spread, consider these traditional canape recipes!
Smoked Salmon Canapes – There's nothing like the classic smoked salmon on toast. To make this old-time favorite, start with a thin slice of smokey salmon and a thin slice of crusty baguette. Spread cream cheese over the top, garnish with red onion and capers and a squeeze of fresh lemon juice. Delicious!
Cheese and Mozzarella Bite-sized Canapes – This bite-size treat is always a hit at parties. All you need is some freshly grated parmesan, mozzarella and cheddar cheeses. Place the cheese on a small piece of crostini, top it with a few pieces of chopped sun-dried tomatoes, a sprinkle of oregano and sea salt, then drizzle with extra virgin olive oil. Yum!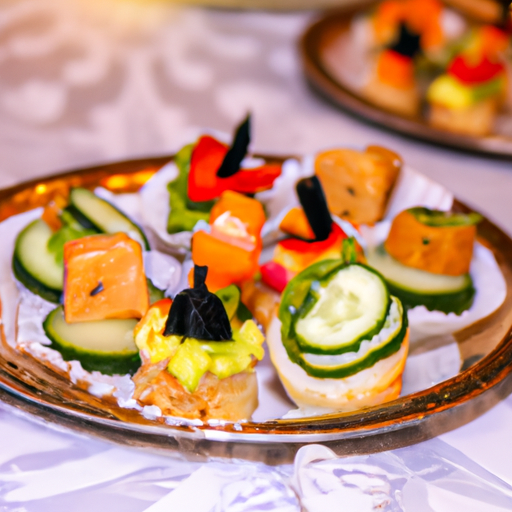 Prosciutto Wrapped Asparagus Canapes – For something a little more daring, try this innovative canape. Begin by blanching asparagus spears in salted water. Then roll each spear in thinly-sliced prosciutto. Bake until the prosciutto is crispy. Serve with a wedge of lemon and aioli or garlic mayonnaise.
Easy Canape Recipes
No time? No problem. Here are a few simple, yet scrumptious options for those short on time and ingredients.
Cream Cheese and Bacon Toasts – This one only requires two items. Toast some bread (or cut up a baguette) then spread with cream cheese and top with crispy bacon. You'll knock their socks off with this super easy recipe!
Garlic Herb Cheese Ball Bites – Start by taking your favorite herb and garlic cream cheese ball recipe and rolling it into quarter-sized balls. Place the balls onto toothpicks and serve. If you're looking for a fancier option, consider rolling the balls in crushed nuts or hemp hearts. Delicious!
Caprese Skewers – Even if you're strapped for time, you can whip up a batch of these tasty skewers. Grab some cherry tomatoes, small mozzarella balls, large basil leaves, and some balsamic glaze. Thread the ingredients onto wooden skewers and drizzle with the glaze. Ready to enjoy!
In conclusion, canapes offer a convenient way to bring a sophisticated touch to any event. It doesn't matter if you don't have a ton of time or lots of ingredients – there are plenty of traditional and easy canape options available. To learn even more about canapes and find additional great recipes, check out this article!
Wrapping it up: Canapes for Everyone!
Ah, canapes – one of life's little pleasures. Whether you're a fan of traditional recipes like smoked salmon and prosciutto wrapped asparagus, or you prefer something easier, like cream cheese and bacon toasts, there's truly something for everyone. Not to mention, they're easy to make, look great on the table, and are sure to please the masses. So why not give 'em a whirl? You won't regret it.
If you want to take your party up a notch, try sophistication-in-a-bite canapes like garlic herb cheese ball bites, caprese skewers, or prosciutto and melon slices. These dishes are guaranteed to delight any crowd – after all, who doesn't love bite-sized tasty treats? Plus, these recipes are simple and adaptable – you can always experiment with different ingredients until you get the perfect concoction.
So the next time you're looking to throw a dinner or cocktail party, why not push the boat out? With canapes, you get the taste and elegance of fine-dining, without having to break the bank. Trust us, your guests will thank you!
FAQs About Canape Recipes
What are the most widely used base for canapés?
When it comes to canapés, one of the most widely used bases is toast points. Toast points are simply small slices of toast or crackers that provide a crunchy canvas for any number of creative toppings. You can spread a variety of spreads on top of the toast points such as hummus, pesto, pesto and goat cheese, or ricotta, or keep them plain and create more complex toppings like smoked salmon, capers, and lemon. For a more substantial canapé, you can use baguette slices, crostini, or crackers. If you're looking for something more unique, brioche tarts can be topped with various combinations of fruit, vegetables, cheese, and herbs for a flavorful and aesthetically pleasing appetizer.
What makes a successful canapé?
For me, successful canapés come down to a few simple elements. First of all, you want to make sure you have a range of flavors and textures. You want the canapés to be both savory and sweet, and you want a little crunch for contrast. You also want to make sure that the ingredients are fresh and of good quality.
When it comes to presentation, keep it simple and elegant. You want a few simple ingredients that work together in harmony. You also want to make sure you don't overcrowd the plate. Think about the colors and contrasts and how the canapés will look before you assemble them.
Finally, think about how you'll be serving the canapés. Will you be offering them as a course in a dinner or as part of a larger array of snacks? Will they require any additional cooking or assembly? Knowing the context of where and when you'll be serving the canapés will help you select the best recipes.
What are some popular finger foods?
When it comes to finger foods, it's hard to beat classics like mini quiches, pigs in a blanket, and spinach dip. They're tasty, easy to make, and always a hit with a crowd. But if you're looking for something a little more sophisticated, why not try canapé recipes? They don't take long, they look great, and they taste even better.
For something light and elegant, serve up smoked salmon roulade with cream cheese and cucumber. It's sure to be a crowd-pleaser. Or for a little more heft, try artichokes and provolone with aioli. Yum!
For a sea-inspired canapé, serve up oysters Rockefeller with crispy bacon and spinach. They're a delicious bite-size treat. Or, for a Mediterranean twist, wrap Mediterranean vegetables in phyllo dough with a touch of feta cheese. Mouth-watering!
No matter what you serve, everyone's sure to love these tasty canapé recipes. Don't forget to finish off the spread with a glass of crisp white wine and some fresh-baked bread. Now that's how to throw a real party!