Introduction
Ever been to a luxurious event that just wasn't complete without canapés? Boy do I have the dish for you – sweet and decadent canapés! Not your typical hors d'oeuvres, these morsels of pleasure will have all your guests swooning. But what are canapés, exactly? A fancy French word, canapés can be defined as small pieces of food, usually served during cocktail hour. Traditionally, they're made from toasted or fried bread, topped with some sort of delicious topping. In the culinary world, they're used as a way to tantalize one's taste buds before dinner. Today, let's take a look at the sweetest, most mouthwatering canapés out there – get ready for an explosion of flavors.
Ingredients and Flavors
When it comes to making canapes, the possibilities for flavors are pretty much endless. You can take a classic route and go for something like chocolate-covered strawberries, or get creative and whip up a peanut butter cup creation. So if you're ready to explore some sweet and decadent canape recipes, here's what you need to know about ingredients and flavors.
Common ingredients used in sweet canapes include cream cheese, nut butters, marshmallows, melted chocolate chips, caramel sauce, and fruits such as berries and apples. You can also add crunchy elements like crushed cereal, pretzel pieces, or even popcorn. All of these ingredients can be combined to create the perfect flavor combination.
Popular flavor combinations include dark chocolate and sea salt, white chocolate and raspberry, peanut butter and banana, raspberry and almond, cherry and coconut, and caramel and apple. For something a little more out of the box, try a peanut butter and jelly combination, cheesecake and blueberry, or dark chocolate and pumpkin.
But don't limit yourself to just one flavor combo – feel free to mix and match different ingredients to come up with something truly unique! You can also use spices, such as cinnamon and nutmeg, to enhance the flavors of your recipe. With all these delicious options, you'll never be stuck for ideas for your sweet canapes!
Simple Recipes to Get You Started
When it comes to the sweetest, most decadent canapes, nothing beats classic recipes. If you're looking for a simple way to get started in the world of canapes, look no further! Here are two delicious recipes that will delight your guests – and even give them something to talk about.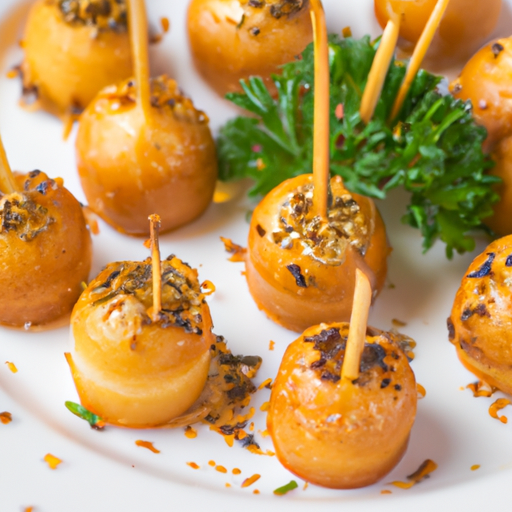 The first recipe on our list is for a classic Chocolate-Covered Strawberry Canape. All you need is some ripe strawberries, melted chocolate chips, and wax paper. Simply place a few berries onto the wax paper, then dip each one in the melted chocolate. Let them cool until the chocolate hardens, and voila! A delicious snack that everyone will love.
Our second recipe is for a Caramel Apple Pie Canape. All you need is some pre-made apple pie filling, caramel sauce, and parchment paper. Simply place a scoop of apple pie filling onto the parchment paper, drizzle with caramel sauce, and let cool. These treats are sure to satisfy any sweet tooth – even my own!
If you're looking for something a bit more creative, don't worry – we've got you covered! For an easy Oreo truffle canape, all you need is crushed Oreo cookies, cream cheese, melted chocolate chips, and a muffin tin. Combine the Oreos and cream cheese until they form a dough, scoop into balls, and chill in the fridge. Once chilled, dip each ball into the melted chocolate and set aside to cool. Now you have delicious truffles that will be the hit of any gathering!
The last sweet canape recipe we'll be sharing is for a Peanut Butter Cup Canape. All you need is peanut butter, melted chocolate chips, and a mini muffin tin. Place a teaspoon of peanut butter into each muffin cup, and top with a few drops of the melted chocolate. Let cool and remove. With this yummy treat, you can be sure to bring smiles to everyone's faces!
These simple recipes may not be as fancy as some of the gourmet canapes out there, but they are guaranteed to be a hit with everyone. So if you're looking for something different and unique, try out these recipes and see what all the fuss is about. To learn more about canapes, check out this article!
Creative Recipes
When it comes to crafting canapes that are sure to impress, there's no better way than getting creative and mixing up some flavors. The sky's the limit when it comes to concocting your favorite decadent treats! Here are a couple of unique recipes that take the standard canape game up a notch.
If you love Oreo cookies and truffles, the thought of combining them into one delicious bite will have you drooling! For this recipe, start by melting chocolate chips over low heat until nice and smooth. Place each Oreo in the melted chocolate using a toothpick and then set aside for about 15 minutes. Once the chocolate has slightly hardened, roll each cookie into a ball – viola your Oreo Truffle Canapes are done!
For a slightly different spin on traditional sweet canapes, try adding a peanut butter cup. All you need to do is grab some mini peanut butter cups, cut the top off, put a dollop of nutella or marshmallow fluff inside, then put the tops back on. The taste explosion this creates is like nothing else!
Conclusion: Sweet and Decadent Canapes Made Simple
Who says fancy has to be complicated? Sure, creating those canapés for your next get-together may seem like a lot of work. But with the right ingredients and recipes, it's anything but! Plus, you don't even have to stick to tried-and-true classics like chocolate-covered strawberries. Get creative with peanut butter cups or Oreo truffles – c'mon, your friends and family deserve something special.
If you really want to wow your guests, go for a caramel apple pie canape. Or better yet, why not make a mix of both sweet and savory dishes? That way there's something for everyone. Serve them up delightfully on fancy trays or platters, decorate them with fresh fruit, maybe a few herbs here and there – and you've got a show-stopping party in no time.
No matter what you choose to make, canapes offer a wonderful opportunity to have fun with the presentation and let your culinary creativity shine. With just a bit of effort, you can whip up some truly decadent bites for everyone to enjoy. So go ahead and make those sweet canapes – trust me, your friends will thank you for it!
FAQs About Canapes
Which country canapé is very popular?
There's no denying that French canapés have a special place in the hearts of canapé lovers everywhere. From tiny pieces of toast topped with silky foie gras mousse and a hint of truffle, to light and fluffy croque-monsieur bites, these little morsels of delight are truly decadent. But if you're looking for something a bit out of the ordinary, why not branch out and explore the world of canapés? To that end, I recommend checking out the Swedish-style canapé, which is becoming increasingly popular in the US. These delicious bites are small, round in shape, and usually topped with a savory mixture of smoked salmon, cream cheese, and dill. They are the perfect accompaniment to a cocktail party or an elegant dinner, and they won't break the bank either. So don't be afraid to give Swedish-style canapés a try – you won't be sorry!
What is the difference between canapés and hors d oeuvres?
As a veteran journalist, my advice for discerning near-gourmets is plain: canapés and hors d'oeuvres are two completely distinct categories of food. While they share some similarities, they are in fact quite different. Both canapés and hors d'oeuvres are small, bite-sized snacks, but the difference lies in what they are made out of and how they are served.
Canapés are a type of open-faced sandwich. They traditionally have a thin slice of bread which serves as a base and is topped off with a variety of items such as smoked salmon, caviar, cream cheese, and herbs. The bread used to create a canapé is usually made of white bread or a light cracker. Canapés are served cold or at room temperature.
Hors d'oeuvres, on the other hand, are not necessarily served on anything and are generally made of vegetables, fruits, meat, or cheese. They can be served in a variety of ways including fried, broiled, raw, or simply plated. Hors d'oeuvres are served hot or cold.
The sweetest and most decadent canapés would most likely be a mixture of a variety of items such as cream cheese, smoked salmon, caviar, and herbs on a thin slice of French bread or a light cracker. These canapés should be served cold so that the richness of the flavor can be appreciated. Whether you opt for canapés or hors d'oeuvres, both make for an excellent way to start off a meal or an evening of snacks.
What are the 6 types of appetizers?
When it comes to the sweetest and most decadent canapes, there's no denying the temptation. As a professional connoisseur of appetizers, I can tell you that there are six types to choose from: crostini, tartines, canapes, croutons, tapenades and bruschetta.
Crostini are bite-sized Italian toast points that are topped with a variety of delicious spreads and other ingredients. Tartines are open-faced sandwiches made with a hearty type of bread and a variety of toppings such as cheese, vegetables, or meats. Canapes are small open sandwiches, often served on slices of toast or crackers with a variety of toppings. Croutons are small cubes or pieces of toasted or fried bread that are used as a crunchy topping or garnish. Tapenades are spreadable condiments made from olives, capers, and other ingredients, usually served with crackers, crostini, or toast. Bruschetta are open-faced sandwiches made with a variety of toppings, served on toasted slices of French or Italian bread.
When it comes to selecting the sweetest and most decadent canapes, it's all about the combination! I recommend considering the classic flavors of sweet and salty. Experiment with different kinds of crackers and toasts and various deferent combinations of flavorful ingredients like fruit, nut, and cheese spreads or jams, syrups, and nuts. Get creative and have fun – you can't go wrong!