Introduction
What's a canapé? Pronounced kan-uh-pey, these tasty bites are known for their fun and flavourful presentation. Think tiny tartlets and savoury spoonfuls, upscaled from your regular snack-sized options with an extra kick of gourmet goodness.
Savoury canapés are the perfect way to spice up any party or dinner. Not only do they wow your guests, but they're also super easy to share and make sure everyone's tastebuds will be tantalised.
So, ready to join me on a savoury canapé adventure? Read on to find out the benefits, useful tips and delicious recipes that'll jazz up any event in a flash!
Benefits of Savoury Canapes
When it comes to serving canapes at a gathering, you really can't go wrong with savoury! These mini morsels provide everything that a guest could want – all the flavour, without too much fuss. Not only do they offer a variety of flavours, but they're also easily shared amongst all your guests.
Savoury canapes are not only delicious and full of flavour, but they allow for lots of fun experimentation. Do some research on different types of ingredients and come up with something uniquely yours! The possibilities are truly endless, so don't be afraid to get creative.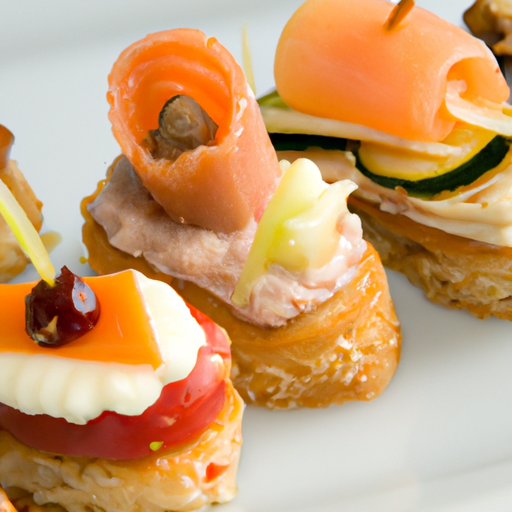 One of the great things about savoury canapes is that you can throw in many different textures for some added interest. You can mix and match crunchy, creamy, chewy, or otherwise to create an unforgettable experience. And no one has to worry about getting enough food because everyone can have as much or as little as they like.
Plus, these little bites are perfect for anyone who may have dietary restrictions. With so many options available, it's easy to please everyone around the table without sacrificing any flavour.
So don't be shy – savoury canapes are where it's at! Whether you opt for classic recipes or try a unique twist, you'll have your guests begging for seconds. Plus, they don't take a lot of time to prepare, so you can spend more time focused on what really matters – having a blast with your friends and family.
Tips for Preparing the Best Savoury Canapes
When it comes to savoury canapes, it's all about quality ingredients and creative presentation. There's no doubt that a tasty canape will tantalise your taste buds, so make sure you're sourcing the freshest and finest produce to give your guests an experience they won't forget! Here are some of my top tips for creating the best savoury canapes – unique flavours and textures that'll leave your crowd asking for more!
Firstly, don't be afraid to experiment with different flavour combinations. Mix it up by adding herbs, spices and condiments, like relish and chutney, to meld together unique tastes. Secondly, tap into your artistic side to assemble eye-catching canapes; the visual effect goes hand in hand with a great tasting dish.
Thirdly, think outside the box when it comes to texture. Offer guests crunchy elements, like crostini and crackers, along with creamy fillings, such as cream cheese or hummus – they'll appreciate the variety. Lastly, don't be afraid to experiment with different cooking methods and preparation techniques. Roast, bake, fry and simmer your way to divine canapés!
My advice? Get creative and invest in quality ingredients – these simple tips will have you whipping up the most delicious savoury canapes in no time!
Popular Savoury Canape Recipes
When it comes to creating a unique and delicious experience for your guests, savoury canapes are an awesome way to go. From smoked salmon blinis to mini quiches – these tasty morsels can really pack a flavour punch. Here's a few tried-and-tested recipes to get you started.
Smoked Salmon Blinis: This classic canapé is surprisingly easy to make yet looks super fancy. All you need for this one is some cream cheese, smoked salmon, freshly chopped chives, eggs and little buckwheat pancakes. Smear some cream cheese on the blini, top with some smoked salmon and sprinkle over the chopped chives – voila! A perfect hors d'oeuvres in minutes.
Mini Quiches: These bite-sized snacks are sure to be a crowdpleaser. Simply pre-cook some tart shells before adding a mixture of eggs, cream, salt, pepper and any other herbs or seasoning that takes your fancy. You could also choose to add some bacon or mushrooms. Pop them in the oven 'til they come out golden brown – then serve warm! Yum!
Baked Brie Cups: Who doesn't love melted cheese? For this one you just need some puff pastry, brie, honey, walnuts and rosemary. Cut circles from a puff pastry sheet and line cupcake tins. Carefully cut the brie into wedges before topping each pastry circle with them. Drizzle over some honey, sprinkle on walnuts and give a light dusting of rosemary. Bake until golden and you've got yourself a seriously scrumptious snack.
Conclusion
There's no denying that savoury canapes are the perfect party snacks. Not only do they offer a wide selection of flavors and textures, but the bite-sized delights are easily shared amongst your guests. But if you want to make sure your canapes stand out from the crowd, pay attention to your ingredients and presentation. To guarantee deliciousness, go with quality produce and get creative with how you arrange them on the plate.
If you're looking for a few tried-and-true recipes, smoked salmon blinis, mini quiches, and baked brie cups all make super tasty dishes. Or if you're feeling adventurous, check out Bowl Sunset for some inspiring recipes to try. Whether you follow a classic recipe or experiment with something new, there's always plenty of room for delicious canapes on the table!
FAQs About Canapes
What are the types of canapés?
When it comes to savory canapés, there is no shortage of delicious options. From small bites of cheese and charcuterie to mini quiches and tartlets, there are endless varieties of canapés that can tantalize your taste buds. Here's my breakdown of the top canapé varieties:
Cheese plates: Create a plate of assorted cheeses and meats. From Brie to Camembert, Roquefort to Gruyere, your selection of cheeses should offer a range of textures and flavors. Serve with crackers, fresh fruits, and breads. Top it off with slices of salami, prosciutto, and other cured meats.
Vegetable tartlets: Create small tarts with a savory filling. Fill with a cream cheese and vegetable mixture, top with some shredded cheese. Bake, then serve with a side of marinara or pesto sauce.
Quiches: Create mini quiche tarts filled with veggies, herbs, and cheeses of your choice. Top with an egg mixture. Bake, then serve.
Crab cakes: Serve mini crab cakes with a variety of sauces and dips. You can also add a sprinkle of herbs or a salty topping for an extra flavor boost.
Caprese skewers: Thread together mozzarella balls, cherry tomatoes, and basil leaves and serve with a balsamic reduction or pesto. This is a simple, yet delicious savory canapé.
Tapas: Use your imagination to create mini tapas dishes. The possibilities are endless – from marinated olives to stuffed peppers, to artichoke dip, to mini empanadas.
No matter which savory canapé you choose, they're sure to be a hit at your next event!
What makes a successful canapé?
In order to make a successful canapé, a few key elements must be taken into account. Firstly, taste is paramount: the ingredients chosen should be selected carefully, complementing each other to create a flavour sensation that lingers in the mouth. Then, texture is essential: the ingredients must work together to provide a balance of textures – crunchy, creamy, soft – in order to draw the eater in. Thirdly, presentation is key: the canapé must have a tantalising visual impact that invites one to take a bite and savour the flavours. Lastly, they should be bite-sized: although it is possible to make larger canapés, smaller ones tend to be more convenient and easier to eat. So, if you want to taste the best savoury canapé around, make sure to find the right ingredients, combine them with care and present them in the most appetising way. That's the key to creating a successful canapé!
What is the difference between a canapé and an hors d oeuvre?
A canapé and an hors d oeuvre are both small appetizers, but they differ in the way they are prepared. Canapés are typically made with a base of toast, bread, or crackers, and then topped with things like shrimp, cream cheese, smoked salmon, roasted vegetables, and more. Hors d oeuvres, on the other hand, are usually served cold and involve a variety of ingredients such as cured meats, cheeses, olives, pickled vegetables, fruits, or other items that are served on toothpicks, skewers, or dishes. Hors d oeuvres can also include bite-sized dishes such as quiches, roulades, or bruschetta. So, essentially, canapés are more of a bread-based dish, whereas hors d oeuvres are a collection of various items served cold.